Top 10 Best Online Forex Brokers 2019
Over the last decade, the online forex industry has evolved into the largest and the most traded markets in the world. It is a fast-paced environment that involves the trade of global currencies and by far one of the most volatile markets. If you are a retail trader and investor seeking to profit from this high-risk and equally highly leveraged trade environment, you are better off working with a forex broker.
Most of these brokers will educate and train you on the industry operations and also present you with the necessary trading tools to get you started. The exchange of foreign currencies online, however, doesn't involve the exchange of hard cash. It deals with bets on the price action of virtual currencies in what brokers refer to as contracts for difference (CFDs).
In this guide, we will cover all you need to know about Forex Brokers and forex trading before introducing you to what we consider the top 10 Forex Brokers for 2019.
What is a Forex Broker?
If you want to enter the Forex market to trade currencies, you need an online Forex broker. Online Forex brokers provide retail traders and investors with a trading platform and access to the live data from the global FX markets. They also provide you with different trading and market analysis tools. Some will also have sections of their online platforms dedicated to forex education and furnished with such resources as tutorial videos, articles, and a practice trading account. Here, both beginner and experienced traders get to learn or perfect their trading skills and strategies in a risk-free environment.
What is Forex Trading?
Foreign exchange (Forex) trading is the art of buying a currency at one price and selling it a higher price and profiting from the price difference. It may also involve selling a currency at a high price and buying it once the price dips to a lower level in what is referred to as short selling. It takes advantage of the fact that at any given time, individuals, businesses, and banks are converting one currency into another.
The forces of demand and supply of these currencies creates the price fluctuations that currency traders seek to exploit. Note that this market is quite volatile and the price for different currencies can change drastically within seconds making it a high-risk marketplace.
Online forex trading is being offered to the public by online forex brokers that connect traders to the forex market via online trading platforms and ECN connection.
Best 10 Forex Brokers for 2019 – Updated LIST
1. IG Group – Best overall, best for trust and reliability
Headquartered in London, IG Group is a forex industry pioneer and one of the largest CFD brokerage services provider in the world. IG is listed with the London Stock Exchange and is a member of the UK FTSE 250 index. It is highly regulated in the United Kingdom, across Europe and in the United States making it one of the most trusted forex brokerage brands today.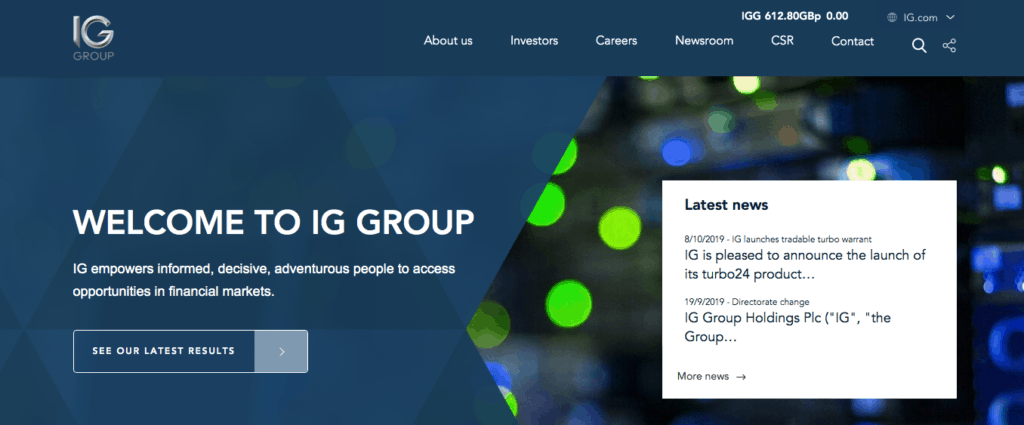 Tradable financial instruments availed by the broker include Forex and CFDs on Indices, shares and bonds, cryptocurrencies, individual equities, and commodities. The broad services plus the fact the broker has been around for more than four decades have made it the largest CFD dealer in the UK. And it attributes its highly competitive trading commissions and ultra-tight spread to this wide client base.
Pros:
Doesn't maintain a minimum account size

Maintains both the broker-spread and spread plus commission pricing models

24/7 live chat service from highly responsive customer support

Desktop, web-based, mobile and tablet trading platforms
Cons:
Pays little attention to education and training resources

Maintains an inactivity fee 
2. Pepperstone – Best for low CFD spreads
Pepperstone is an Australian based online forex brokerage company founded in 2010. It is famed for its trading and research tools rich trading platforms and attractively low spreads that – according to the broker website – start from 0.00 pips. Traders registered with this broker have access to over 80 tradable financial instruments that include Forex and CFDs on cryptocurrencies, indices, metals, and commodities. Traders also have the choice of settling for either the broker's proprietary or the all-popular MT4 platforms.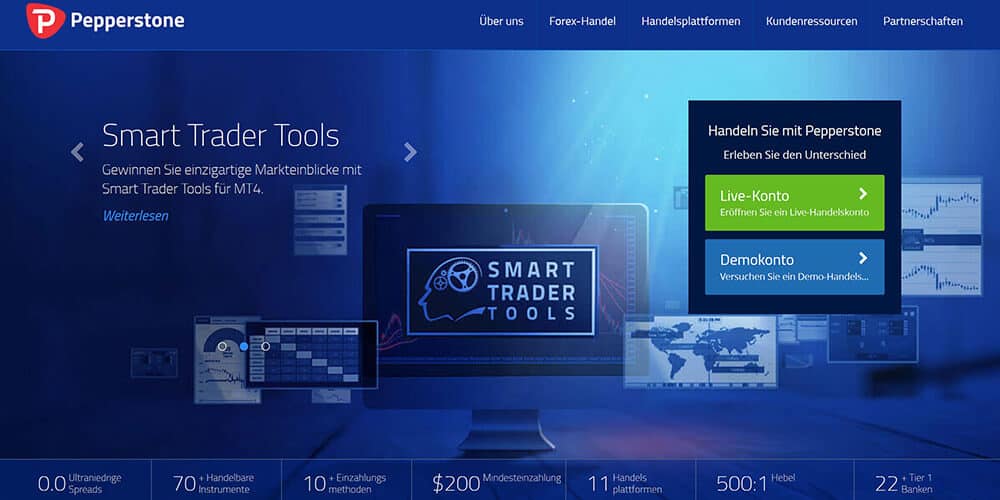 You only need a minimum AUD 200 to open a live trading account here. This gives you access to such features as institutional grade spreads that average 0.0-0.3 pips for the EUR/USD pair and leverages up to 1:500. And these are backed by a huge base of educational and training resources on forex and CFD trading dedicated to both the skilled and beginner traders.
Pros:
Presents you with over 11 full-feature trading platforms to choose from

Supports scalping and algorithmic trading

It is highly liquid and supports straight-through processing
Cons:
Limited payment processing methods that can be quite sluggish

One may consider their tradable list portfolio quite limiting
3. CMC Markets – Best for client deposit protection
CMC Markets is a UK-based online brokerage that maintains the widest range of tradable financial instruments. These include 300+ currency pairs and 200+ commodities/indices as well as bonds and crypto pairs. It also ranks highly when it comes to trader education and training, research and analysis trading tools.
The broker is also famed for maintaining some of the most user-friendly trading platforms available as a web trader, desktop software and also as an android or iOS mobile trading apps. Some of the perks of creating an account with broker include getting access to average-to-competitive spreads that start from 0.7 pips for the EUR/USD pair and $10 for stock trades. In addition to this, traders get treated to free bank wire withdrawals and guaranteed stop-loss feature.
Pros:
Treats traders to real-time market news and events

Presents traders with a significantly long list of tradable products

UK residents deposits and accounts are insured under FSCS for up to GBP 50,000

Risk protection features include guaranteed stop loss and negative balance protection
Cons:
Poor account protection features – no 2FA process

The CFD spreads for different products like Indices may be restrictively high
4. OANDA – Best forex-only online broker
OANDA is a US-based forex-only online broker. Over the years, it has earned the reputation of the most trusted forex brokerage firms globally due to its transparency in fees and pricing. It also is famed for its superior technological trading tools availed to its global forex trading clientele. When it comes to trading fees, OANDA maintains the broker-spread as well as the raw spread plus commission-pricing model.
These make it appealing to both the experienced and beginner traders. Not to mention that they don't have a minimum initial deposit required to open a live trader account. The trader account can then be operated on either the company's proprietary trading desktop platform or the web/desktop and mobile-based MT4 trading platforms.
Pros:
You get to open account and trade with as little as $1

Maintains a relatively easy to use web trading platform that t

reats traders to manually-adjustable leverage of 30:1

A highly secure trading environment with two-factor authentication for account login
Cons:
Limited financial trading instruments as it only deals with Forex

Poor customer service marked with delayed responses
5. FX Pro – Best for innovative trading technologies and tools
FX Pro comes off as one of the most innovative online forex brokers. Over the years, the UK based forex broker has engineered several new trading technologies that it has incorporated into its trading platforms. Most of these are dedicated to automated trading and include cAlgo Algorithmic trading, FXPro Quant strategy builder, and the FXPro VPS.
These are then embedded into the company's MT4 or CTrader trading platforms and availed freely to their traders. In addition to the automated trading algorithms, other perks of registering with FXPro include their affordable minimum deposit of $100 as well as attractive leverage of 1:500. You also get access to the widest range of Forex and CFD markets on futures, indices, energies, shares, and metals.
Pros:
The broker is available in 173 countries across the world

Supports algorithmic trading and expert advisors through the cTrader platform

Highly responsive multi-lingual customer support team available 24/5 on the phone, live chat, and physical office in London

Presents traders with an attractive list of tradable instruments.
Cons:
One may consider their spreads averaging 0.5-1.5 pips relatively expensive

Limited education and training resources for beginners
6. Saxo Bank – Best for the widest range of tradable instruments
Saxo Bank is probably the most expensive online forex trading broker you will ever come across. The broker maintains three trading accounts; classic, Platinum, and VIP whose minimum initial deposit required for account activation stands at $10,000, $200,000 and $1 million respectively. To make up for this, Saxo maintains the highest levels of professionalism in customer support, ultra-competitive spreads that starts from 0.4 pips, and one of the most extensive collection of tradable instruments and trading tools.
According to the broker, every Saxo Bank client has access to over 40,000 tradable financial products that can be traded on their proprietary and award-winning web-based trading platforms – SaxoTraderGo and SaxoTraderPRO. Other equally significant features about the broker include proven trust and reliability during its close to three decades of operation as well as regulation in the UK, Japan, Australia, and Singapore. Plus attractive leverages of 1:200.
Pros:
Boasts of having the widest range of financial trading instruments

Gives traders and investors access to tier 1 liquidity for best fill-rates

Maintains a highly sophisticated web trader with highly customizable trading and analysis tools and innovative risk management features

Highly responsive and knowledgeable customer support tea,
Cons:
One may consider their minimum deposit quite prohibitive

Doesn't support MT4/MT5 trading platforms
7. Plus 500 – Best for highly innovative proprietary platforms
Plus500 is a huge company that offers online CFD specializing in forex, stocks, ETF's, indices, options, and cryptocurrencies. Here, you get access to all the major forex trading pairs and an additional 2000 tradable financial products.
Plus 500 brokerage firm is headquartered in Cyprus but is also authorized and regulated by UK's FCA, South Africa's FSP, and Australia's ASIC. Demo accounts are free to open. You will, however, need a minimum initial deposit of $100 to activate a live account whose leveraged trades are currently capped at 1:300. The only downside to the broker is that it doesn't support the all-popular MT4 and MT5 trading platforms.
Pros:
Plus 500 is listed on the London Stock Exchange

The broker is highly regulated in multiple financial jurisdictions

Traders benefit from ultra-tight spreads averaging 0.6pips

Supports highly versatile web, desktop, and mobile proprietary trading platforms
Cons:
No phone support

Not available to U.S clients

Doesn't support the MT4/MT5 platforms
8. 24 option – Best for dedicated account management
Founded in 2010, 24option stands out as one of the few brokerages that offer dedicated account management for the different client accounts. Basic and Silver accounts have dedicated managers that offer a daily market brief and one-on-one tutorial on market analysis respectively, Gold account holders, on the other hand, have access to senior account managers and the trading central feature.
The broker is regulated in Cyprus and avails over 100 tradable financial instruments. These include all major forex pairs, cryptocurrency, stock, commodities and indices CFDs. It supports both the MT4 and its proprietary trading web, Desktop and mobile trading platforms. The minimum deposit depends on the funding methods. Cards and electronic deposits have da minimum $100 while wire transfers have their minimum set at $1,000.
Pros:
Presents traders with a broad list of tradable instruments and markets

Has a responsive customer care

Supports both the MT4 and proprietary trading platforms

Low trading cost with tight spreads and free withdrawals
Cons:
Not available to North American and most EU countries
9. Markets.com – Best for customer support
Markets.com, a subsidiary of Playtech, is one of the leading forex brokers in the industry and is regulated by CySEC, FSCA, and ASIC. Markets.com was founded in 2010 and is considered one of the most reliable brokers in the industry.
It features here not just because it gives its clients access to the widest range of markets but also due to their excellent multilingual customer support service. Here, you don't just trade Forex but also CFDs on metals, commodities, cryptos, shares, bonds, and even IPOs. Plus it also maintains attractive leverage of 1:300 and an affordable minimum initial deposit of $100.
Pros:
Treats traders and investors to both proprietary and MT4 trading platforms

Operates under the banner of a publicly-traded company – Playtech PLC

Gives you access to over 2000 tradable instruments
Cons:
One may consider their variable spreads considerably wide

Limited order functions on the proprietary trader platform
10. Forex.com – Best for United States FX traders
Forex.com is a pioneer in the forex brokerage industry and one of the most reputable brokers today. Headquartered in the United States, it also is one of the few brokers serving the U.S forex markets.  Its professionalism and reliability are evidenced by the fact that it is regulated by virtually every major global financial district including the USA. UK, Australia, Canada, Japan, and Australia.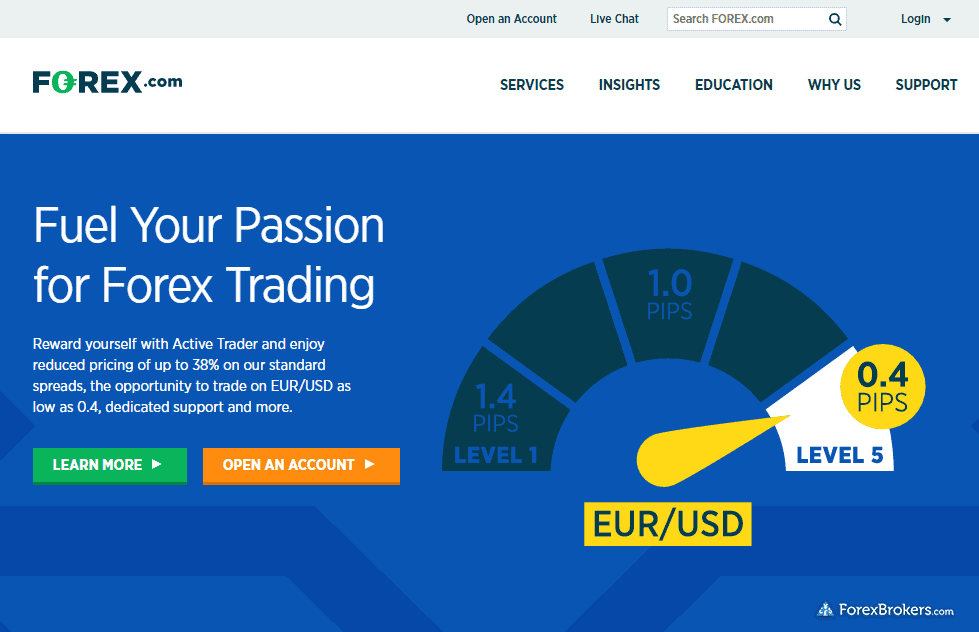 The minimum initial deposit for Forex.com stands at $50 while the leverages for the US markets are capped at 1:50. Traders and investors here have access to the forex and CFD markets on commodities, equities, bonds, and cryptocurrencies. Trades have to be executed through their proprietary or MT4 desktop, web and mobile trading platforms.
Pros:
Presents traders with a wide range of sophisticated analysis and trading tools

Highly regulated for reliability

In-house trading platform + MetaTrader4

Responsive customer support team
Cons:
Crypto trades are currently only available to UK clients
11. Ally Invest – Best for commission-free CFD trades
Ally Invest is an American-based online discount broker specializing in stock and forex trades. It is best known for its low trading fees and an extensive range of both technical and fundamental analysis tools. 
Some of the tradable securities that an Ally Invest client is exposed to include Stocks, Bonds, Mutual Funds, Forex, and options. You don't need a minimum initial deposit to activate an account with the broker. However, trading is only possible via their mobile app or the web-trader platform. Either of these provide a trader with free market analysis and highly customizable charting and research tools.
Pros:
Provides for commission-free trades

Boasts of a wide variety of education and training tools for beginner forex traders

Accepts US residents

Highly responsive customer support available 24/7
Cons:
Slow deposit and withdrawal processes

Not attractive to active day traders
12. Degiro – Best for free and discounted CFD trades
Degiro is a fast-rising and Dutch-based online forex brokerage company famed for its low trading fees. It charges some of the lowest fees, commissions, and spreads on all the markets it is involved in.
In addition to this, the online broker will provide you with a trading discount for trades on your country's stock exchange that further pushes down the trading fees. Its tools and resources-rich mobile trading platform as well as the fact that it doesn't charge a deposit, account maintenance, or operation fees also draw us in.
Pros:
Low trading costs and free withdrawals

No minimum initial deposit required

User-friendly with leverages of up to 1:100
Cons:
Forex trading available through CFDs

Slow deposit and withdrawal process

Poor trading platform
How to Choose a Forex Broker
The Forex market has no central regulatory authority to maintain orders and dictate terms of engagement. There only exist regionalized systems that seek to protect traders within their country or economic block from gullible international brokers. You, therefore, must be thorough in choosing a forex broker if you hope to safeguard your forex investments and increase your chances of turning a profit.
Note that your success and how much you make as a forex trader will – to some extent – depend on your broker's services. In such a case, you are better off settling with a broker that offers tight spreads, a substantial currency pairs selection, and robust margin levels.
There also are several factors that we believe you must also take into account before deciding on a forex broker. These include their regulation and licensing, commissions and fees, regulations, trading platforms, deposit and withdrawal methods plus their charges, account types, and customer support.
The Most Popular Currency Pairs
Currency pairs are divided into three different groups: majors, minors, and exotics. We have 7 major currencies; EUR/USD, GBP/USD, USD/JPY, AUD/USD, USD/CHF, USD/CAD. Major currency pairs have the largest volume share in the forex market, 85% of the total forex volume.
Obviously, the most traded currency pair in the world is EUR/USD. As you probably noticed, all the major pairs are paired with the US dollar (USD). Minor pairs on the other hand excludes the US dollar, they include (GBP/JPY, EUR/GBP, AUD/JPY, AUD/CHF, etc.).
Exotic currency pairs are a combination of a major currency and a developing country's currency: USD/MXN, EUR/TRY, USD/HKD, USD/SEK, etc).
How to Read a Forex Chart
Interpreting a forex chart is actually quite simple. We will help you understand the trading chart, and how to accurately use it as a basic trading tool.  
First, there are several types of trading charts: Line charts, bar charts, and candlestick charts. We will focus on the candlestick chart as it is the most commonly used forex trading chart.
The chart below present the GBP/USD daily chart. The horizontal line represents the timeline depending on the timeframe you choose. The vertical line shows the price of the pair (In this example, the GBP is the base currency and the USD is the quote currency).
Every candlestick bar presents a timeframe – for example, in the chart above the candlestick bar shows a full trading day as we chose a daily time frame.  If the candlestick is green, the pair's daily change was positive, meaning the GBP strengthened when compared to the US dollar. If the candlestick is red, the opposite applies.
In order to use a forex trading chart as a useful trading tool, traders add technical indicators into the chart to predict currency pairs direction. Among the most popular technical indicators include: Moving Average (MA), RSI, Bollinger Bands, Stochastic Oscillator, Fibonacci and Support & Resistance.
Most Used Forex Trading Platforms
There are many forex trading platforms provided by online forex brokers. While some brokers operate their in-house trading platforms, there are some popular trading platforms for forex traders that are in use by many of the online forex brokers. These include NinjaTrader, cTrader, TradeStation, MT4 and MT5. Among all these, the MetaQuotes platform MT4 is the most popular forex trading platform in the market.
MetaTrader offers perhaps the best charting software available for forex and CFD traders. One of the unique features of the MT4 and MT5 is the expert advisors that allow you to backtest your trading strategy before entering the real market.
Meta Trader 4 (MT4)
MetaTrader 4 was first released in 2005 and has since gained huge popularity between 2007-2010 among forex traders. Today, the trading software remains the most popular software due to its simplicity and functionality.
Meta Trader 5 (MT5)
In 2010, MetaQuotes released the new version of MT4, MetaTarder5. The first release of MT5 was not a success, and traders continued to favor the MT4. However, following numerous updates and improvements among them, addition of new technical indicators, as well as the improved expert advisor feature which enhances algorithmic trading, elevated the MetaTrader5 to be one of the top trading platforms in the market.
Types of Forex Trading Account
These are some of the most common account types of accounts you will come across.
Mini AccountStandard Account Premium (VIP) AccountManaged Account
A mini trading account allows traders to make trades using mini lots (portions of a full FX transaction).
This is the most common account, and it allows you to trade in lots ($100,000 after leverage)
As the name implies, this account is for the high capital investors. This type of account will treat you to some of the lowest fees and charges.
This type of account is funded by the trader, and managed by one of the brokers' analysts/professionals.
Top 8 Forex Trading Terms
Pip – A 'percentage in point' is the smallest fluctuation in a currency exchange rate. 

Spread – It is the difference between the bid and the ask price.

Leverage – Defined as the broker's ratio to leverage the trader's funds.

Margin – A margin is a loan taken by the trader from the broker as the percentage of a full position. Most forex brokers require 2%, 1%, .5% or .25% margin ratio.

Volume – In forex, the volume is the number of lots traded in a specific asset or account.

Slippage – Slippage is an execution of a trade at a different price than the initial order.

Lot – Lot size equals 100,000 units of currency, meaning 1 lot is a purchase of 100,000 units of the base currency.

Economic Calendar – A daily/weekly/monthly calendar covering macroeconomics data.
Forex Q&A
Is online forex trading safe?

Same as any other investment, you can lose your capital while trading forex. On the other hand, forex also provides you an opportunity to leverage your funds and generate a higher profit. The biggest risk with leverage is the fact that it can amplify your losses just as it does to your profits
How much money do you need to start trading Forex?

Not a lot. Each broker has a minimum deposit requirement in order to open an account. With some brokers you can start trading with only $10, others will allow you to start trading with $100, $200, etc. Remember that you have to ability to leverage your capital by trading with forex companies.
What is the best way to start trading?

The best way is to open a demo account on one of the brokers' website. Most forex brokers provide a demo account with virtual money to practice and sharpen your trading skills. Another way to start trading is through social/copy trading that allows you to copy successful traders. By that, you can understand markets/instruments behavior and the trader's decision-making process.
Can Forex trading be an investment?

Yes, it can. Obviously, it depends on your strategy. For example, some traders use carry trade (interest rate difference between two currencies) to earn a small amount of profit for a long term investment. Position traders on the other hand are viewed as investors. They will hold onto a position for weeks or even months focussing on the bigger market picture.
Can I integrate MetaTrader with all brokers?

No. Every broker has a different set of trading platforms. While some brokers provide one platform, others will let you choose among several trading platforms. MetaTrader is still one of the most popular forex trading platforms and is offered by many forex brokers.
Does Forex trading depend on the Country Economy?

Forex trading depends on a number of factors, and one of them is the economic status of a country. For example, a country's interest rates can determine a specific currency pair direction. Other macroeconomic data such as GDP, employment rate, inflation, etc are also important to any forex trader.
What is the application of forex trading?

The use of forex trading is enormous and varies from individuals who exchange one currency for another, companies and governments that transfer goods for foreign currencies and banks that transact currencies through the interbank foreign exchange market.
What are the best Forex Trading Strategies

First,  you need to decide whether your trading strategy is based on fundamental data (macroeconomic reports, economic status of a country and financial news) or based on technical analysis that helps you to predict price fluctuations. Some traders integrate both fundamental data and technical analysis. Following that, you will find your own unique strategy that works best for you.
Can I trade Forex in the US?

Currently, it's illegal to trade forex through CFDs in the United States. In order to trade forex in the US, you must open an account with a US regulated broker such as Forex.com, Oanda and Interactive Brokers.
How can I open a Forex account?

Nowadays, as forex brokers are regulated, you need to register at one of the brokers' website and provide the required documents. Once your account has been approved, you can deposit funds and start trading in the real market.